IDX Styles
& IDX Colors
Customize the colors of your IDX Broker pages. It will change menu, map pins, links and button colors on the IDX pages.
Use this app
Get IDXAddons Now
Unlock IDX Broker potential with IDXAddons. Enjoy our amazing & fully customizable widgets to make your website stunning.

Elevate Your Real Estate Website's Style
Enhance Website Aesthetics with IDX Styles App
Welcome to a new era of website customization with our IDX Styles app. This dynamic tool empowers you to transform the look and feel of your IDX pages, enhancing the overall aesthetics of your real estate website. With the ability to change menu, map pins, links, and button colors, you can harmonize the styling with your brand's identity seamlessly. This app also ensures consistent formatting by fixing minor style issues across all IDX pages, providing a polished and professional appearance. Whether you're a real estate professional seeking a cohesive online presence or a property seeker yearning for a visually pleasing experience, IDX Styles app offers the perfect solution.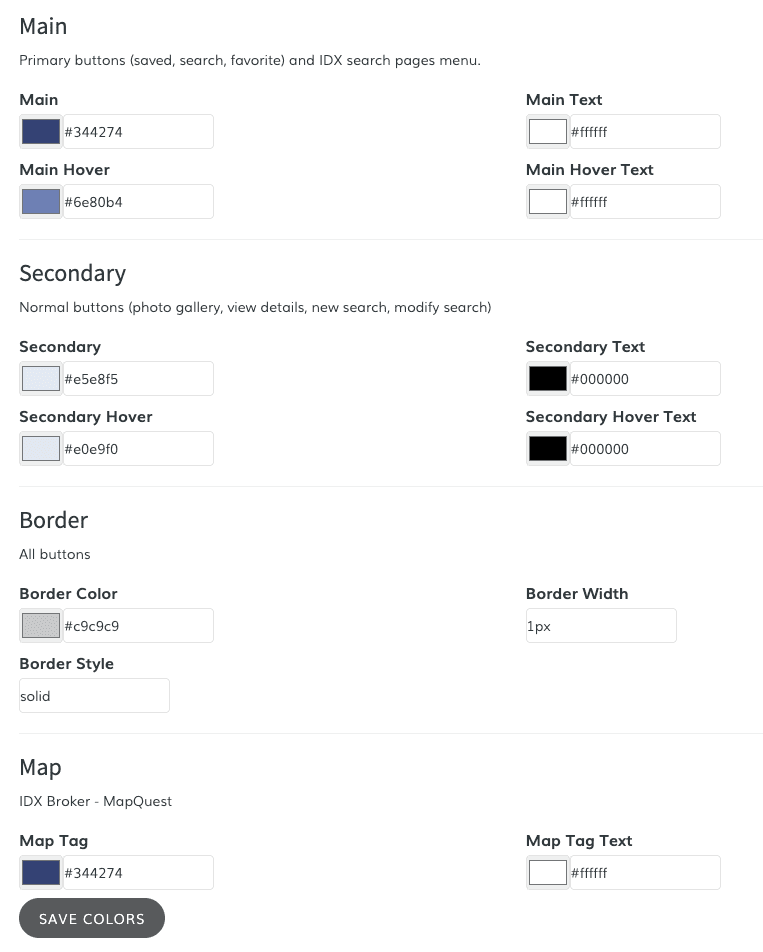 Your Website, Your Design
Unleash Creativity
The IDX Styles app takes customization to the next level by offering a wealth of options to match your website to your unique vision. Change fonts, select themes for IDX listing pages (Similar, Nearby, and Popular Listings), and even personalize the registration popup and user dashboard with themes that resonate with your brand. This flexibility empowers you to create a website that reflects your style and values. With IDX Styles, you're not just changing colors; you're crafting an online presence that leaves a lasting impression and caters to the desires of both real estate professionals and property seekers.

Style Your Real Estate Future
Design Your Success
With this app, you have the tools to design a real estate website that not only looks impressive but also functions seamlessly. This app allows you to present your listings and data in a way that resonates with your audience. By giving you control over fonts, themes, and styles, it becomes an integral part of your online success. Whether you're building a professional real estate platform or a user-friendly property search experience, IDX Styles is the key to making your real estate future truly stand out. Elevate your website's aesthetics and offer an immersive journey to your users with the IDX Styles app today.